In class we have been working on creating pamphlets that describe a specific activity that you may do on Scratch. This is to better help create a super helpful and convenient way to begin teaching newer Scratch users the basics on the activities. I learned a lot through this process. It is pretty easy to take for granted the simple things when it comes to activities like these. We've had a lot of discussion on the best way to integrate creativity into the teaching process. This seems to be the hardest one because it is easy to give steps to teach but teaching creativity isn't something you can do. I've really enjoyed working on this project because it has not only taught me significantly more about scratch but also about teaching and what it may be like when we do go down to Barbados. These projects are also making me very excited to go to Barbados and have the opportunity to try and bring new creative ideas to the kids and spread the world of scratch with them as well.


As second semester begins, my excitement for the Barbados trip continues to grow. Julia and I will be heading down a few days early to prepare the laptops before the entire group arrives. I am super excited to have both an individualized experience as well as one working with the entire group. In class, we have been working on drafting an instruction manual for people learning how to use Scratch. The manual includes step by step instructions as well as symbols (such as a star and lightbulb) next to the different points that indicate an important point, big idea, etc. Some members of the class have gone to the Lower School to practice teaching Scratch, but unfortunately, I have not had any of the periods free to do that. Because I have not had this teaching experience, I am a little bit worried about teaching the kids in Barbados. However, I have had experience teaching children in Guatemala, and know that it requires patience and repetition. I am ready to take on this challenge!

Lately in OLPC we have been working hard on a set of instructions/lesson plan for the teachers we will be working with in Barbados. This lesson plan summarizes the skills we will teach the students while we are there, and other skill sets that the teacher can teach once we leave Barbados. This lesson plan ranges from simple skills such as how to move, all the way to how to create a complex maze with add-ons. As we end this process, we have also begun looking at projects created by CSG students that we can use as examples for the students and teachers. These example projects will help the teachers and students visualize what they can create.

From this process I have learned lots of new things about teaching others. I have learned the importance of not only explaining things, but as well as why we do these things. I also find I am much more confident in my abilities in Scratch while I work on this lesson plan for the teacher. I am teaching others and myself through this process. How to teach others is definitely a skill I have improved upon during this class.
Powered by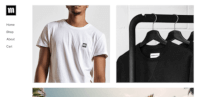 Create your own unique website with customizable templates.